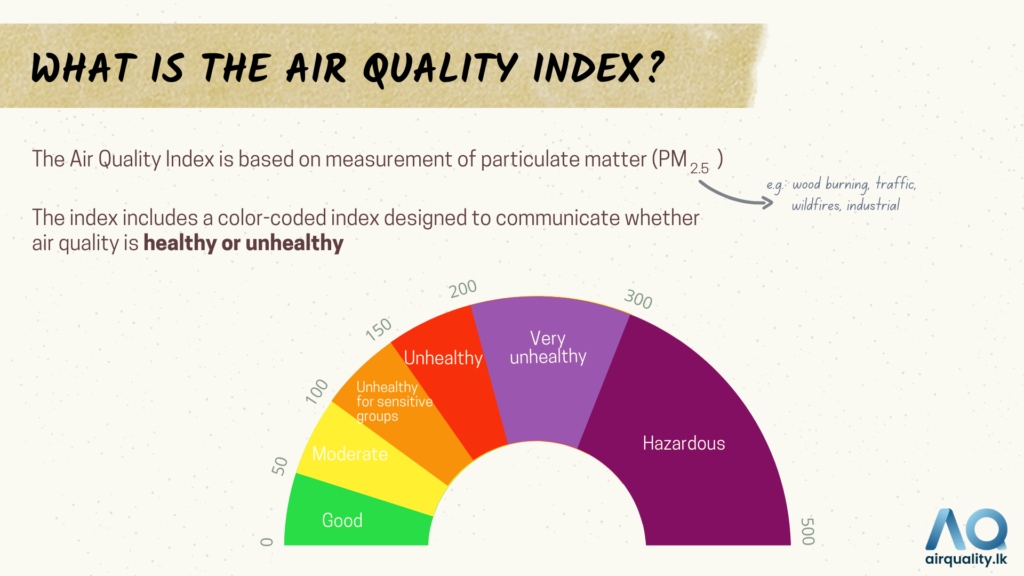 Air quality is measured with the Air Quality Index, or AQI. The AQI works like a thermometer that runs from 0 to 500 degrees and is used to show how polluted the air is, along with the risks associated with each rating. These risks and standards are based on medical research for the acceptable levels of major air pollutants such as; particulate matter (PM2.5 and PM10), Ozone (O3), Nitrogen Dioxide (NO2), Sulphur Dioxide (SO2), and Carbon Monoxide (CO) emissions. Essentially, an AQI translates raw, numerical data into a descriptive scale and makes it easier for people to understand. 
Typically, the AQI serves two main purposes:
To inform the public about the quality of air in a comprehensible manner so that they may take action to protect their health.
To help countries develop and assess policies for better air quality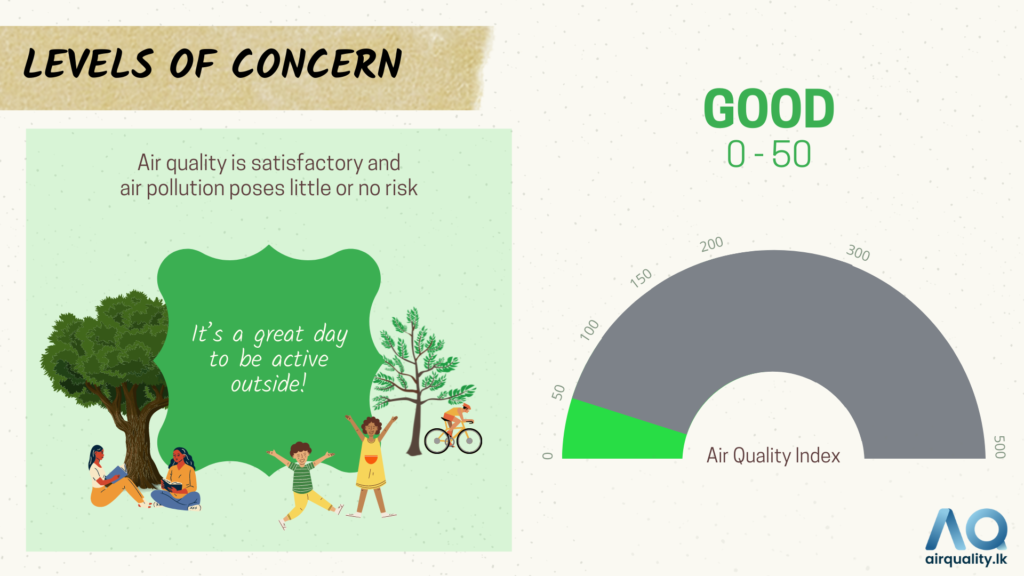 The AQI is divided into six categories and each category corresponds to a different level of health concern. Each category has a specific colour that makes it easy for people to quickly determine whether air quality is reaching unhealthy levels.
AQI between 0-50 is considered 'Good', which means that air pollution poses little or no risk. However, AQI can vary from one season to another and can also vary depending on the time of day (Ozone levels often peak in the afternoon to early evening and Carbon Monoxide may be a problem during morning or evening rush hours)1, therefore, it is important that one checks the AQI regularly, or before heading out.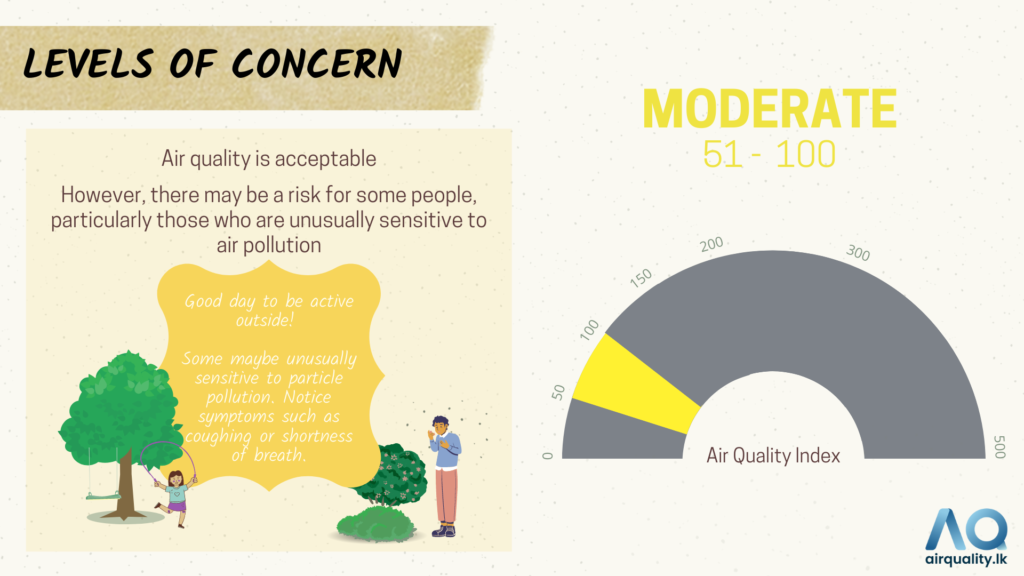 AQI between 51-100 is considered 'Moderate' which means that air quality is generally at acceptable levels. However, there may be a moderate risk posed to a very small number of individuals who are unusually sensitive to ozone and particle pollution or, those that experience respiratory symptoms. Therefore, it is advised that these groups limit strenuous outdoor activity. 
When AQI values are above 100, air quality is 'Unhealthy' at first, for members of the population at greatest risk of a health effect. These groups include people with heart, lung disease, and diabetes, older adults, and children. Therefore, sensitive groups are advised to reduce prolonged or heavy exertion outdoors. However, exposure to ambient concentrations in this range is unlikely to result in effects on the general population.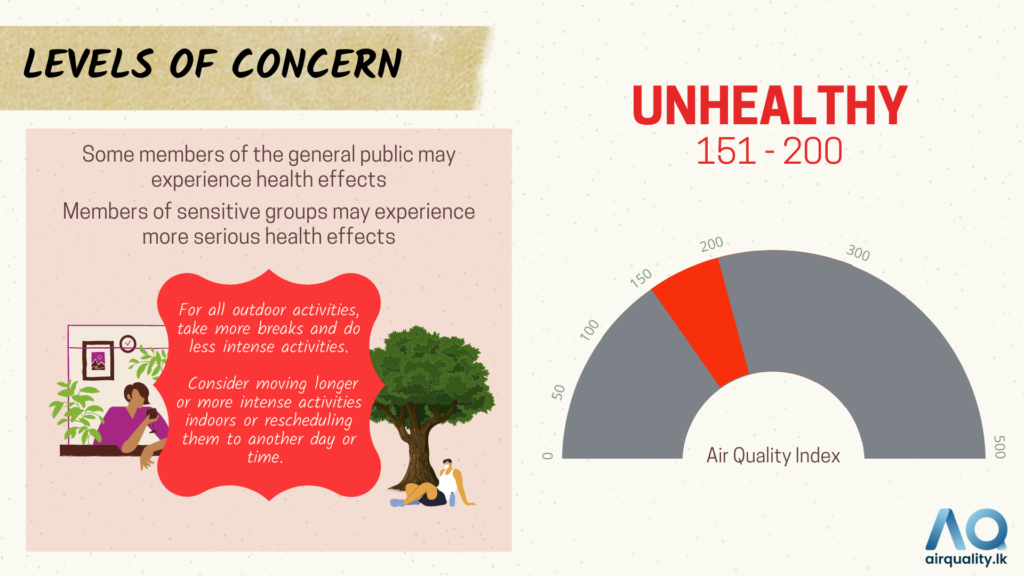 When AQI values are above 150, air quality is 'Unhealthy' for the entire population. For most adults, activities that involve heavy physical exertion such as high-intensity sports, heavy manual labour, vigorous running, cycling, and hiking should be limited. As fitness levels vary widely among individuals, what is moderate exertion for one person may be heavy exertion for another. No matter how fit a person is, cutting back on the level and/or duration of exertion when particle levels are unhealthy will reduce the inhaled dose and help protect oneself against the harmful effects of particle pollution.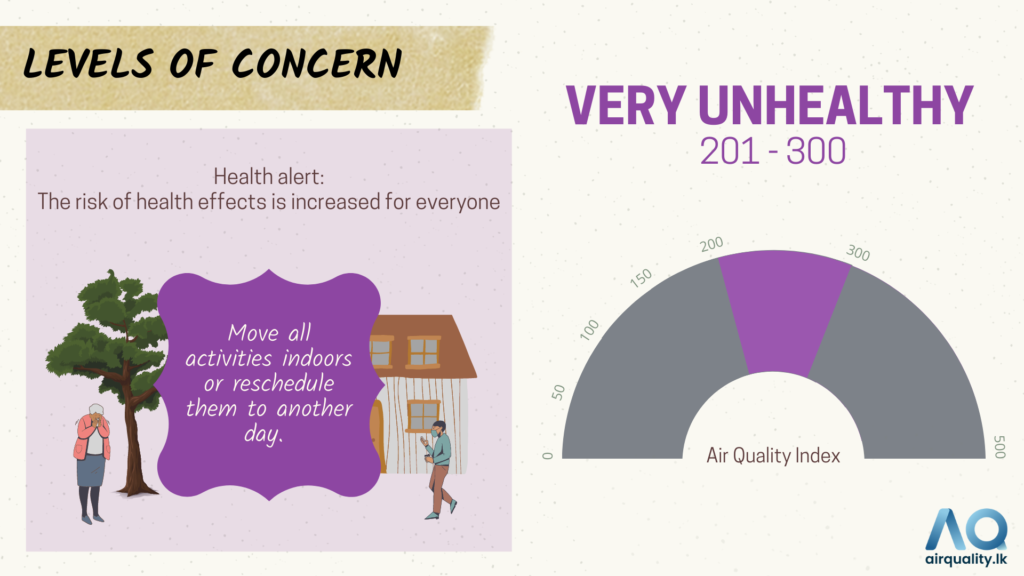 AQI values between 201 and 300 trigger a health alert, which means that everyone may experience more serious health effects. Active children and adults and people with respiratory diseases should avoid all outdoor exertion. During air quality alerts, the vulnerable should reduce physical exertion and try to stay indoors with the windows closed. Those with asthma should carry their inhalers and use a face mask if they go outdoors.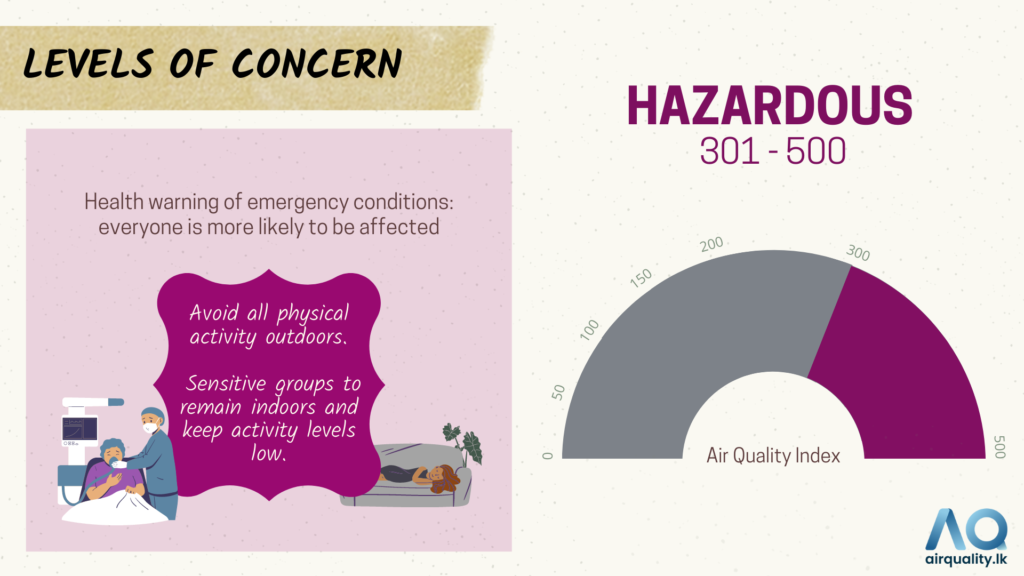 AQI values between 301-500 call for the highest level of concern. In the hazardous range, the chances are that an emergency alert will be issued by media outlets, weather apps, and more. If this is the case, everyone should avoid going outside and being exposed to the air as much as possible. People with compromised health should not go outside at all to protect themselves. If you are concerned about the air quality around you, wearing a face mask anytime you are exposed to the compromised air can help. 
---
1 AirNow Website; https://www.airnow.gov/sites/default/files/2018-04/aqi_brochure_02_14_0.pdf